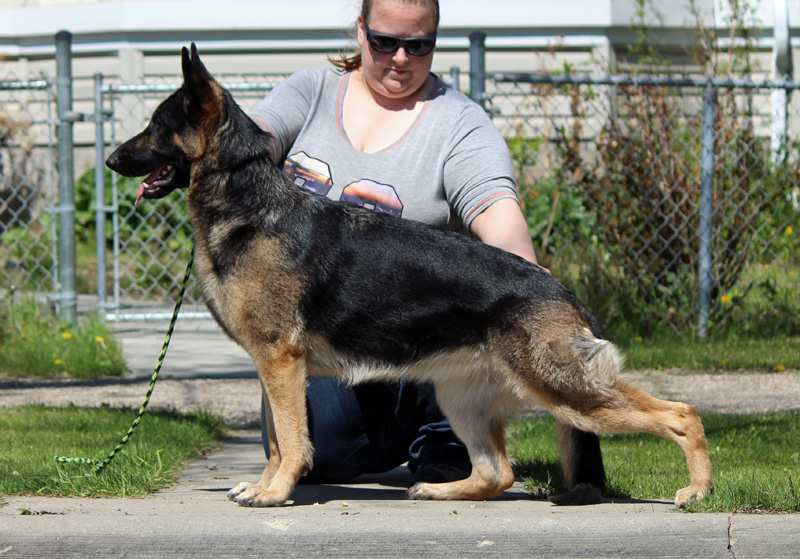 "Ladybug", better know as "Bug" to the rest of us, is a litter sister to our big boy Seelie. Bug is our little miracle girl. This litter was born by c-section and upon removal was found to have one deceased pup. Bug was the puppy right next to the deceased pup (deceased at least 72 hrs), she was worked on very hard by the vet tech. to get her going. As she started to age, a white wing appeared on her shoulder where she rested up against her deceased brother. It was very noticeable as a young puppy, but has since faded and blended into just a few white hairs that remain on her shoulder.
"Bug" is also co-bred/co-owned with Lonna Fisher of Sunflower Kennels. Bug's first time in the ring resulted in Reserve Futurity Female, breeder/owner/handled! We couldn't be prouder of our little under dog. We look forward to continuing Bug's show career, as well as looking forward to trying tracking with her. Bug has quite the nose on her, sometimes it leads her into trouble. We also have high hopes of having our very first brace to show in the coming years with Bug and her sister Stamp.
Bug is our little ballerina dancer. She is very light on her feet and spends more time with her feet off the ground then on. She loves to "get high" by standing on anything she can see, including me, this is a trait she seemed to inherit from her mother. Bug has several nick names "Bitty Bug" or "Baby Bug", she is a very happy go lucky kind of girl.
***FLASH***On June 7th, 2015, Bug showed in her Maturity and gaited her way to RESERVE MATURITY FEMALE!!! A huge thank you to Emily Cremer of Qisma's Kennels for handling Bug to this win. Emily met Bug just minutes before entering the ring and we couldn't be more pleased with the results of this duo.

Click HERE to view Bug's Pedigree